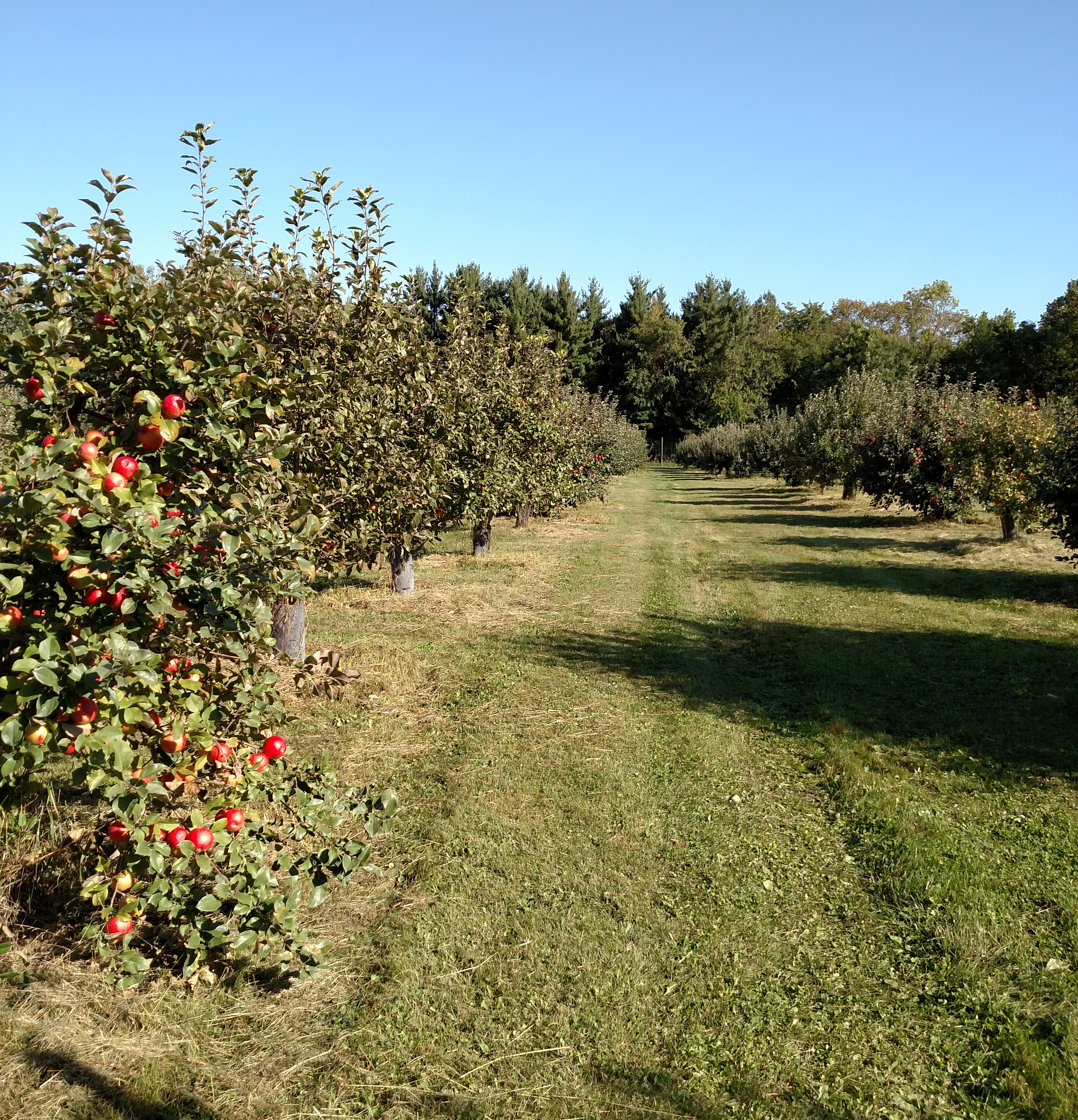 Varieties we grow:

Beacon, Connell Red, Chestnut Crab apple, Frostbite, Haralson, Honeycrisp, Honeygold, Keepsake,
Kindercrisp (2 years), Norland, Northwest Greening,
Snappy Mac (2 years), SnowSweet, State Fair, Sweet 16, Triumph (3) and Zestar.
********
What is currently ripe and available for picking:

Please note that not all varieties are pre-picked
and in the barn.

* minimum 1/2 peck to pick in orchard
There is no separate fee for going into
the orchard. You only pay for the apples.

Varieties
1/2
Peck
5#
Peck
10#
1/2
Bushel
20#
Bushel
40#
Beacon
Haralson
State Fair
NW Greening -very limited
Chestnut-limited
Connell Red - limited
Keepsake
Frostbite
Honeygold
Sweet 16
SnowSweet
Zestar - avail in barn only
Honeycrisp

Note: The more you buy the better the price. Half bushel and bushel prices are for one kind of apples only (no mixed)


* A bushel is equal to 40-45 pounds

Orchard -
Closed for the 2022 season
remaining apples will be sold at the
Princeton Farmers Market on Sat.
through the end of October.

| | |
| --- | --- |
| | |
| We are a traditional orchard. You pick the apples directly from the trees. We do not have entertainment and we do not charge a separate fee to pick in our orchard, you only pay for the apples that you pick. We want you to try the apples in the orchard and pick what you like. | |
Kids are always welcome, adult supervision is required.

wagons at the farm are for people picking large amounts of apples to carry the apples to and from the orchard.


Strollers and wagons are welcome.

Portable toilet on-site.




No Dogs - unless needed for assistance (Certificate required)



Fresh Cider - Call ahead for availability. If looking for cider in bulk, contact us for pricing. Must provide clean container. Please note we only make cider once a week.


Cash, checks and credit cards (Visa, MasterCard, American Express and Discover) (no checks over $100.00) ---Please---
Credit card/Debit card fees are covered by the customer

Farm practice for apples. Integrated Pest Management(IPM) This means we are

always monitoring our farm for pests and will spray if absolutely necessary to protect the fruit crop.