Apple Orchard is now closed for the 2021 season.
Thank you to all of our new customers and old customers and look
forward to a great season next year.

We will still continue to sell the remainder of the apples along
with fresh cider at the Princeton Farmers Market on Saturday
in the parking lot across from K-Bob cafe, while supplies last.

For those that have orders placed (apples and bulk cider
we will continue to fill those orders) We will let you know when
they are ready for pick up.





F
arm Information:
No Dogs, unless assistance dogs. Certificate is necessary. thank you.
Children Policy:
We allow all children,
including strollers and wagons. We
just ask that they be supervised, for more information see the fruit pages.
Parking
information
.: Please follow the signs when you get to the farm. We need everyone to park
with headlights to flags(only) this way we can get more cars in the parking area.


Health information:
If anyone in your family is not feeling well, hold off on coming we will be open for
several weeks. Pick another day when everyone is doing good.
Farmers Market information:

We are currently selling jams, syrups, just made apple cider and freshly picked Apples at the Princeton
Farmers' market. Saturday's 8:30 - Noon.

Jam available (Blueberry, Blueberry/Raspberry, Raspberry/Rhubarb and Apple Pie Preserve ($6.00/8oz Jar)
Syrups (Blueberry, Apple cider and Apple Cider Cinnamon - 8 oz bottle $7.00 - 12 oz bottle 10.00



Cash, Check or Credit/Debit cards accepted
We were selected as
Mille Lacs County Farm Family
of the year (2020).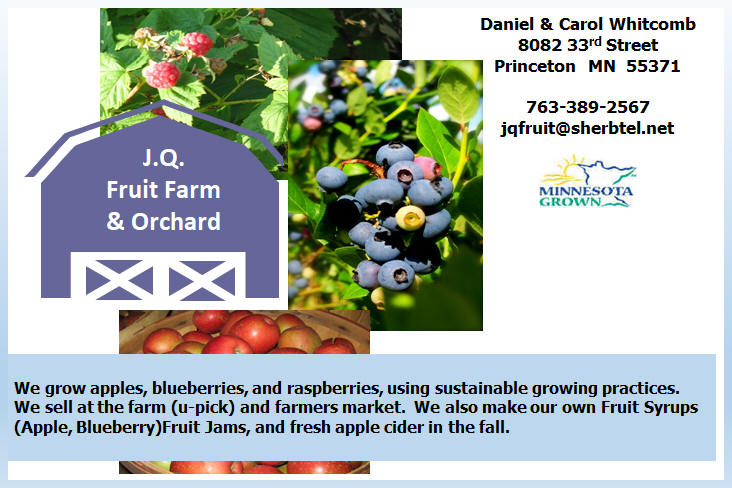 iii
Upd