Update/Status:

July 19, 2018 - Great picking for blueberries
and raspberries, for raspberry pickers, please see note below.
Hours today Thursday 8-6p.m. For additional hours etc. see fruit pages.

Important message: we are expected to get rain today. We will stay open,(we have
grass between our rows) however for the safety of you the customer, if there is hail,
lightening, thunder or high winds, we will close during that time. Thank you.

We do sell pre-picked blueberries(when available) please call ahead to place an
order. (note: this information is on the berry pages along with pricing)



Blueberry upick:

Now open, see hours and prices on berry pages.


Raspberries: (small area, limited in supply) If you are coming out to pick
just raspberries, please call ahead. They get picked out fast.
Thank you.

All Postcards have been sent. Just a reminder, make sure you bring the
postcards with you to the farm to receive the special discount.

Thank you.


************************

We will be at the Princeton Farmers Market this Saturday (July 14). Dan will have blueberries,
raspberries, syrups and jams.


We hope to see you at the market!




Frozen blueberries (last years crop) 4 pound/6 pint vacuum packed bags $20.00. Pesticide and herbicide free.

*****Information about the farm*****
We have been growing blueberries, apples and raspberries for 31 years. See our story on the (History link) We have been selling our fruit off the farm and at the local farmers market for 30 years. If you don't have a chance to get to the farm, we have our fruit at the Princeton Farmers Market on Saturday, and Isanti Farmers Market on Friday (starting on June 1st).

Bees/natural pollinator information: We were part of a University of Minnesota Natural Pollinator
study in 2015 and it turns out that our farm has one of the largest natural bee/pollinator populations.




Cash, Check or Credit/Debit cards accepted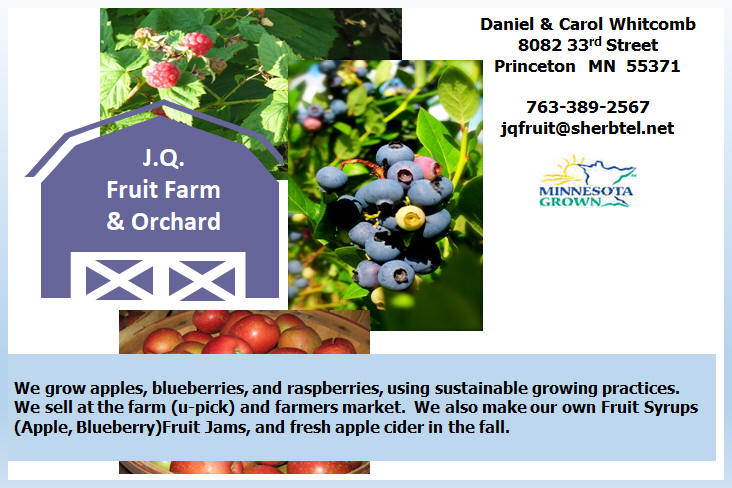 iii
Upd