Update/Status
: August 11, 2019
The farm is now closed for the blueberry and raspberry season. We want to thank all of you who came out to support your Minnesota grower.

We will close for a few weeks then we will reopen for apple season.
We will open the weekend after labor day (orchard will be open on weekends only.) Apple information and prices will be posted on the apple page.


A gentle reminder for parents coming with children to the farm to pick. Please make sure that you are supervising your children and that they are near you at all times. We love to see families here, but ask that you watch them. Thank you



Isanti Farmers' Market - We are not able to continue the market this year, so those of you that shop there, please stop by the farm. thank you.




*****Information about the farm*****
We are a small family farm and we have been growing blueberries, apples and raspberries for 32 years. See our story on the (History link) We have been selling our fruit off the farm and at the local farmers market for 31 years. If you don't have a chance to get to the farm, we have our fruit at the Princeton Farmers Market on Saturday.

Bees/natural pollinator information: We were part of a University of Minnesota Natural Pollinator
study in 2015 and it turns out that our farm has one of the largest natural bee/pollinator populations.




Cash, Check or Credit/Debit cards accepted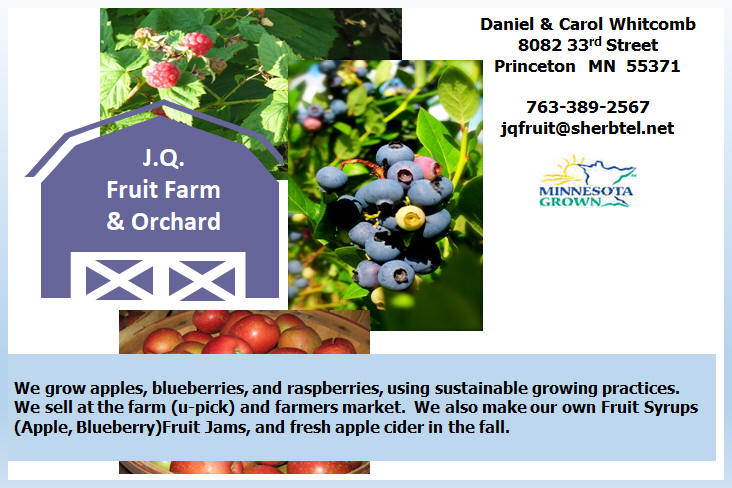 iii
Upd