Update/Status: June 11, 2018



Blueberry upick opening: It is still a ways out, but we will be opening somewhere between
July 6 and July 11(approx).

Raspberries- should be ripe around the same time as the blueberries or shortly thereafter.

This is only an approximation, so I ask that you keep checking the website as it
gets closer. If you filled out a postcard, they will be sent out a few days prior to the opening
of the farm. Reminder, make sure you bring the postcards with you to the farm to receive
the special discount.

Thank you.

************************
We will be at the Isanti Farmers Market today (June15th) and Princeton Farmers
Market this Saturday (June 16). Selling syrup baskets and all of our other
homemade products (jams, and syrups)

We hope to see you at the market.




Frozen blueberries (last years crop) 4 pound/6 pint vacuum packed bags $20.00. Pesticide and herbicide free.

*****Information about the farm*****
We have been growing blueberries, apples and raspberries for 31 years. See our story on the (History link) We have been selling our fruit off the farm and at the local farmers market for 30 years. If you don't have a chance to get to the farm, we have our fruit at the Princeton Farmers Market on Saturday, and Isanti Farmers Market on Friday (starting on June 1st).

Bees/natural pollinator information: We were part of a University of Minnesota Natural Pollinator
study in 2015 and it turns out that our farm has one of the largest natural bee/pollinator populations.




Cash, Check or Credit/Debit cards accepted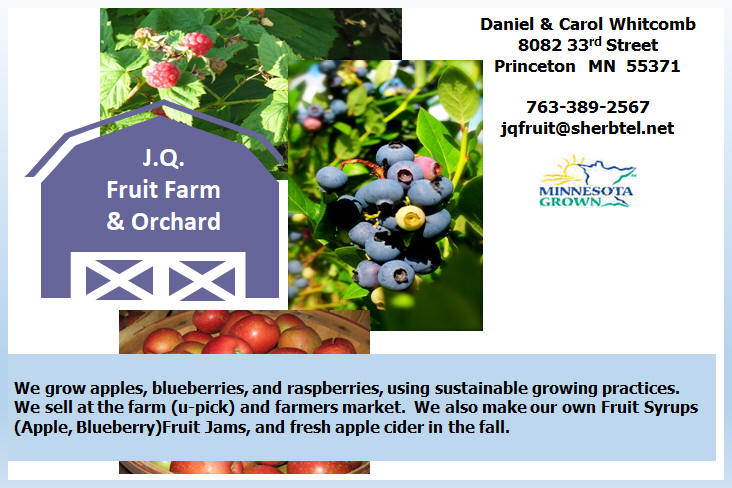 iii
Upd